Make your dining experience more rewarding with the BFRG Rewards app. The BFRG Rewards app gives Rewards members access to all of your account features right from your phone! Not a member? Sign-up via the app for free.
TRACK YOUR POINTS
Easily see how many points you need to earn your next Reward in the progress bar.
VIEW ALL RESTAURANTS
See which BFRG locations are closest to you. View hours, call or get directions.
GET NOTIFIED
Receive updates from the BFRG Rewards team on upcoming events, exclusive offers, or other news.
CHECK IN FROM APP
Give a code to your server, bartender or team member to easily earn reward points.
SEE YOUR REWARDS
Easily view your current points and offers to redeem during your next visit.
CHECK YOUR HISTORY
Track your dining history to see when you have earned reward points.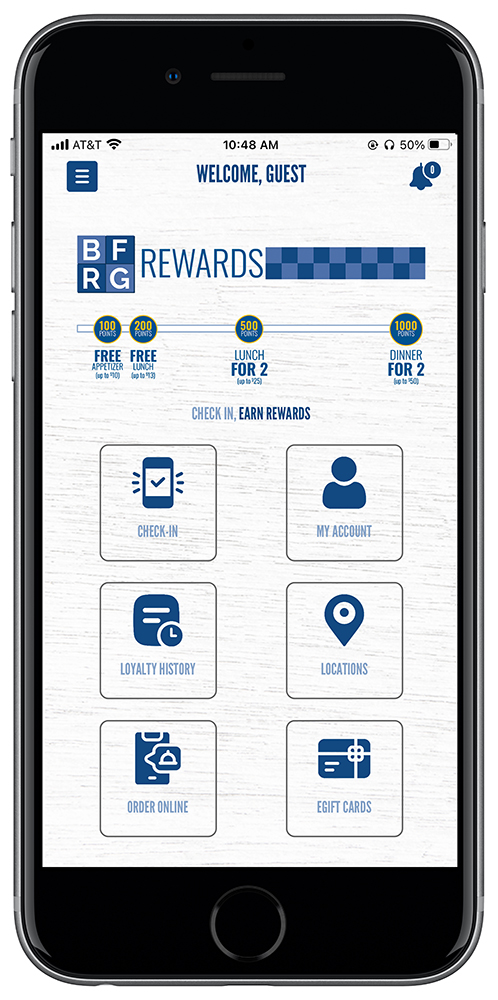 TIPS FOR CURRENT BFRG REWARDS MEMBERS
If you have a registered account, but do not know your password:
Download the app
Click "I Already Have an Account"
Click "Forgot?" in the password field
Follow the steps to reset your password
If you have a BFRG Reward account but have not registered it:
Download the app
Click "Join Now"
Enter in the required information
On the last page, enter in your current BFRG Reward phone number
Newsletter Sign Up
Join Our Mailing List To Get Updates On Any Of Our Restaurant Locations That You Are Interested In!
E Gift Card
If you would like to purchase a physical gift card, please visit any Big Fish Restaurant Group location.